Poliomyelitis
---
Clinical manifestation:
Few suffer from minor illness, very few suffer from meningitis and less than 1% suffer from major paralytic disease
1. Asymptomatic illness:
In most of the infection is asymptomatic and self-limiting

99% cases
2. Abortive poliomyelitis:
Non-specific symptoms such as headache, fever, sore throat, loss of appetite

Disease last for 5 days
3. Non paralytic poliomyelitis
Very few patients suffer from non-paralytic poliomyelitis

Stiffness of neck

Pain in back and neck

Disease last for 2-10 days
4. Paralytic Poliomyelitis: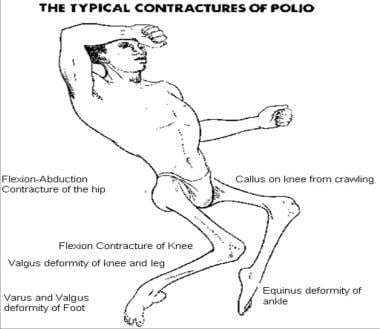 Less than 1% patients suffer from major paralytic poliomyelitis

Paralysis in polio is asymmetric, descending, non-progressive and LMN type.

It damages the motor nerves causing oedema and muscle paralysis

Malaise

Anorexia

Nausea and vomiting

Sore throat

Constipation

Abdominal pain

Headache and fever

Flaccid paralysis: motor neuron damage
 Lower motor neuron lesion of the anterior horn cells of the spinal cord and affects the muscles of the legs, arms and/ or trunk

Bulbar paralysis

: respiratory paralysis
5. Post-poliomyelitis muscle atrophy:
Muscle wasting

Loss of neuromuscular function

Physically Disabled
6. Death is rare. And if occur it is due to respiratory paralysi 
Lab diagnosis:
Specimen: nasal secretion, faecal samples, throat swab, CSF
Electron Microscopy: virus detection

Virus isolation from stool: 
Culture on monkey kidney cell line, Human amnion, HeLa, Hep-2, Buffalo green monkey (BGM), MRC-5 cell line
Antibody detection: ELISA, complement fixation test

Antigen detection: neutralization test

Molecular diagnosis: PCR 
Treatment: no antiviral drugs
Prevention and control:
1. Vaccination
i. Inactivated Polio Vaccine (Salk type – killed):
Prepared by Jonas Salk in 1956

Also known as Inactivated poliovirus vaccine (IPV)

Prepared by formalin inactivation of poliovirus

It is injected deep subcutaneous or intramuscular

Given to child at age of 2 months, 4 months, at school entry age

Effective against all serotype of poliovirus

Produces circulatory antibody

Does NOT require stringent refrigeration

NOT effective in an epidemic
ii. Oral Polio Vaccine (Sabin type – live):
Developed by Albert Sabin in 1962

Contains live attenuated strain of all serotypes of poliovirus
The vaccine contains :-
Over 300,000 TCID 50 of type 1 poliovirus

Over 100,000 TCID 50 of type 2 poliovirus

Over 300,000 TCID 50 of type 3 poliovirus 
Dose 2 drop (0.1 ml)

Schedule in National Immunization Programme of India.( 5 doses)
Dose and  Age
OPV-0 (Zero dose)- At birth

OPV-1 -6 weeks

OPV-2  -10 weeks

OPV-3  – 14 weeks

OPV-B (Booster dose)  – 16-24 months
On administration, the virus multiplies in the intestine 

Induces intestinal and systemic immunity 

Intestinal immunity prevents infection of intestine by Poliovirus

Vaccine virus is excreted in the feces and can infect the unimmunized and induce immunity

Thus widespread herd immunity results, even if only approximately 66% of the community is immunized (100% coverage is not required).

It is administered Orally at 2 months of age simultaneously with first DPT

It is recommended for all children below 5 years

In endemic countries monovalent oral poliovirus type I vaccine (MOPvI) is introduced to eliminate the last reservoir of poliovirus

Colostrum produced in the first three days after child-birth contains secretory IgA antibody which might interfere with the production of immune response to OPV

Nevertheless, several studies show that among breastfed infants who are fed OPV in the first three days of life, 20-40 percent develop serum antibodies and 30-60 percent excrete vaccine virus.

Molar concentration of certain salts MgC12, Na2So4 protect polio virus from heat inactivation  

As it prevents heat inactivation mgCl2 can be added to polio vaccine so that it can be stored at a higher temperature. 
Complications of OPV
Being living viruses, the vaccine viruses, 

particularly type

3 do mutate 
In the course of their multiplication in vaccinated children, and rare cases of vaccine associated paralytic polio have occured in – 
Recipients of the vaccine

Thier contacts 
Contraindiations of OPV
Immunocompromized individuals

Patients suffering from leukaemias & malignancy or AIDS.

Persons receiving corticosteroids.

In pregnancy. 
2. Proper sanitation
3. Safe drinking water 
Vaccine derived polio virus (VDPV) 
Types of VDPV: 
c-VDPV: Person-to-person transmission in community

i-VDPV: Isolates from immunodeficient persons

a-VDPV: Ambiguous from health person or sewage isolates
IM injections and increased muscular activity lead to increased paralysis
Diagnosis: 
VDPV is diagnosed by Real-time Reverse transcription-PCR nucleic acid amplification 
Key risk factors for cVDPV emergence 
| | |
| --- | --- |
| Development of immunity gaps (due to low OPV coverage) | Low routine immunization coverage with trivalent OPV |
| Prior elimination of WPV types |  Insensitive AFP surveillance |
Clinical manifestation:
Few suffer from minor illness, very few suffer from meningitis and less than 1% suffer from major paralytic disease
1. Asymptomatic illness:
In most of the infection is asymptomatic and self-limiting

99% cases
2. Abortive poliomyelitis:
3. Non paralytic poliomyelitis
4. Paralytic Poliomyelitis:
Less than 1% patients suffer from major paralytic poliomyelitis

Paralysis in polio is asymmetric, descending, non-progressive and LMN type.

Flaccid paralysis: motor neuron damage

 Lower motor neuron lesion of the anterior horn cells of the spinal cord and affects the muscles of the legs, arms and/ or trunk

Bulbar paralysis: respiratory paralysis
5. Post-poliomyelitis muscle atrophy
6. Death is rare. And if occur it is due to respiratory paralysis 
Lab diagnosis:
Specimen: nasal secretion, faecal samples, throat swab, CSF
Electron Microscopy: virus detection

Virus isolation from stool
Prevention and control:
1. Vaccination
i. Inactivated Polio Vaccine (Salk type – killed):
Effective against all serotype of poliovirus

Produces circulatory antibody

Does NOT require stringent refrigeration

NOT effective in an epidemic
ii. Oral Polio Vaccine (Sabin type – live):
Developed by Albert Sabin in 1962
 The vaccine contains :-
Over 300,000 TCID 50 of type 1 poliovirus

Over 100,000 TCID 50 of type 2 poliovirus

Over 300,000 TCID 50 of type 3 poliovirus 
Dose 2 drop (0.1 ml)

Schedule in National Immunization Programme of India.( 5 doses)
Dose  Age
OPV-0 (Zero dose)- At birth

OPV-1 -6 weeks

OPV-2  -10 weeks

OPV-3  – 14 weeks

OPV-B (Booster dose)  – 16-24 months
On administration, the virus multiplies in the intestine 

Induces intestinal and systemic immunity 

Intestinal immunity prevents infection of intestine by Poliovirus

Vaccine virus is excreted in the feces and can infect the unimmunized and induce immunity

Thus widespread herd immunity results, even if only approximately 66% of the community is immunized (100% coverage is not required).

In endemic countries monovalent oral poliovirus type I vaccine (MOPvI) is introduced to eliminate the last reservoir of poliovirus

Nevertheless, several studies show that among breastfed infants who are fed OPV in the first three days of life, 20-40 percent develop serum antibodies and 30-60 percent excrete vaccine virus.

Molar concentration of certain salts MgC12, Na2So4 protect polio virus from heat inactivation  

 As it prevents heat inactivation mgCl2 can be added to polio vaccine so that it can be stored at a higher temperature. 

Complications of OPV

In the course of their multiplication in vaccinated children, and rare cases of vaccine associated paralytic polio have occurred in – 
Recipients of the vaccine

Thier contacts
 Vaccine derived polio virus (VDPV) 
Types of VDPV: 
c-VDPV: Person-to-person transmission in community

i-VDPV: Isolates from immunodeficient persons

a-VDPV: Ambiguous from health person or sewage isolates
IM injections and increased muscular activity lead to increased paralysis
Don't Forget to Solve all the previous Year Question asked on Poliomyelitis